Modern vs Traditional
Many of my original paintings are created using digital painting technology and others (mostly my fine art paintings) are created with traditional acrylic, watercolor and oil techniques.  I enjoy employing both modern and traditional techniques in creating my art because of my passion for technology and love of the techniques and looks achieved by the "Old Masters" which I can produce with my natural media software.  My painted images sell as commissions or art prints on "Fine Art America" and "Redbubble".
Digital Art
I can turn photographic memories into wonderfully painted digital art using my natural media software (Corel Painter) and a digital stylus. These paintings can be printed in many gallery wrapped canvas sizes and sealed to be ready for the walls of your home. Almost all of my digital paintings are commissions.  Fees range from $150 upward depending on the size of the painting and the number of people included.  Right now, I'm working on painting in a looser, more impressionistic style. See my Fees Page.
See some examples below:
| | |
| --- | --- |
| | (This seaside painting was commissioned by a professional woman who loves the ocean and the beach.  It was created from a portrait taken in Gulf Shores Alabama.  Her name is Sandra and I called this work "Sandy by the Sea"). |
| | (This is a digitally painted portrait of my daughter in her wedding gown created from a beautiful photographic portrait.)  It was printed on fine art paper and framed and resides in my home.) |
| | This fully digital cross painting was for a guy who wanted to have a memory of where his Dad's ashes were spread on the family farm.  We called it "The Cross of Remembrance".  The beautifully framed image now hangs in his home. |
| | This digital painting of a  wooden gazebo was for a retired couple who had built this beautiful place to rest and reflect in their wooded back yard.  They call their little retreat "Woodhaven".  The framed work now hangs in their home. |
| | (The painting above was commissioned by a man, whose beloved pet of over 15 years, Shark, was getting older and becoming more and more disabled by hip dysplasia. My challenge was to paint his lovely,  shining black coat. The gallery wrapped canvas now hangs in the clients home. |
| | This painting was commissioned by a lady, who had special memories of a family beach vacation in Gulf Shores, Alabama).  My challenge was to paint the scene without the high-rise condos and gulf oil rigs. The painting was sealed on fine art paper and framed with glass and now hangs in the client's home. |
Traditional Art
My traditional art is usually framed or created on gallery wrapped canvases, ready to hang on display in the gallery or a private home. See some examples below: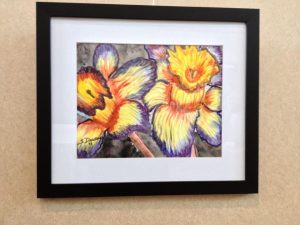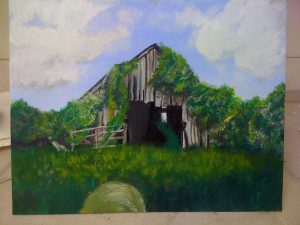 Comments
Thanks for looking at my site and coming to this page.  I would love for you to leave any questions or comments below.
– Shirley