Drawing a shoe with contour lines
---
Today I have been working more on the lessons in the Ultimate Drawing class I'm taking online
This lesson has been on lines, specifically "contour" lines
The teacher used a boot to draw, but I don't have boots, so I used my shoe.  I'm pretty tired so I did this very quickly and I really didn't do so well.  It is late and my light in the office is not so good, so I'm having trouble seeing details in the shoe.
But anyway, here's a photo of my shoe and my drawing.  Maybe I'll try it again tomorrow to see if I can do it better in a more lighted situation and my eyes working better.
I'm truly enjoying these lessons though and learning.  I'm hoping to pick up a lot more knowledge and skills by drawing every day like this.
Photo of my shoe: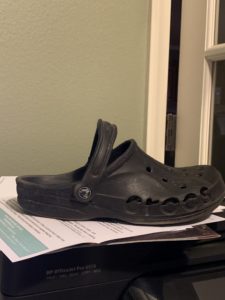 My drawing of it: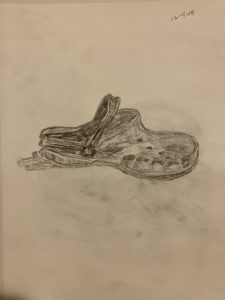 Comments
I'm glad to get comments or questions, please leave yours below -Shirley