Back to Digital Work
I was happy this last month and a half to get back to creating some digital paintings.
One of my friends was married and for this second marriage she wanted the fancy dress and all the other stuff.  My wedding gift to her was a painting from their wedding day. This was painted in Corel Painter, printed on canvas as a 20×30″, gallery wrapped and embellished with acrylic highlights and sealed again.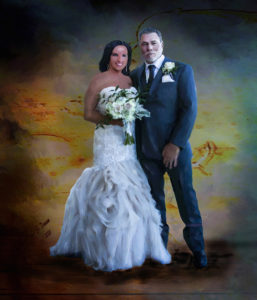 The second digital work was for me to enter into a juried art show at the Southeast Arkansas Arts and Science Center.  The Pine Bluff Art League's annual show.  I was happy to get this one accepted into the show.  There were 65 entries and only 35 got accepted.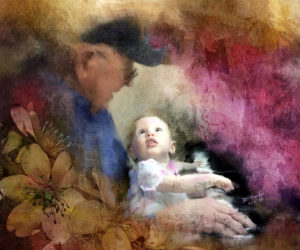 This image "Music Lesson" was dear to my heart, as it depicts my beautiful granddaughter "Hope Anne" and her grandpa Baldwin.  I enjoyed creating this digital painting with Corel Painter and having it printed on a 16×20 gallery wrapped canvas with acrylic embellishments.
I typically create my digital paintings from my own photographs but I can also  create from your own photos if they are sharp images.  One the size of the wedding canvas would cost $400 and the size of the child one would cost $300.
Contact me if you are interested in commissioning a painted canvas.
Comments:
I welcome your questions and comments. -Shirley