Back to my love of drawing
---
I've been so busy with my affiliate website training and sites that I have neglected my art.  My daughter, Jennifer, has been doing some painting and drawing herself and when I visited her recently at Thanksgiving, I watched her paint and draw and felt the urge to draw coming upon me.
So when I got back home and saw Udemy's drawing courses were on sale for Cyber Monday, I purchased a few new drawing courses at $9.99.  A great deal.
Today I started the "Ultimate Drawing Course – Beginner to Advanced" by Jaysen Batchelor.  Jason is a very talented young man and a good teacher.
About the Course
This course has 63 lectures, 50 projects.  I'm going to enjoy this.
More about the course:
The course starts with the basics. You will get an in-depth understanding of the fundamentals of drawing. Fundamentals are the most important part of creating professional art. You will learn everything from line fundamentals all the way up to highlight and shadows.
Next, you'll learn how perspective works and how to incorporate it into your art. You will be learning 1, 2, and 3 point perspective.
Once you've learned perspective you are going to learn how to create texture and apply it to your drawings.
Then you are going to learn how to draw from life. Observing life and drawing is a very important skill when it comes to art.
At this point, you'll be ready to start drawing the human face. We will spend a whole section learning how to draw the human face from different angles.
Next, you're going to learn how to draw the human figure.
Lastly, you will gain access to the bonus section where I'll teach you how I draw animation styled characters step by step.
The course also has a Facebook group where students can talk and share.
My tools
I found my sketchbook, prismacolor pencils, eraser, and ruler.  I watched the training until the first assignment which was to draw a realistic eye.
Here's my finished assignment.  I enjoyed doing this drawing and learned stuff I didn't know, especially about drawing the eyelashes and the reflected light image.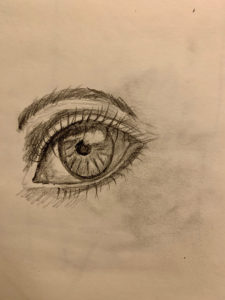 By the way, Udemy's sale is going on for another day, so you can get this course for $9.99.
https://www.udemy.com/course/the-ultimate-drawing-course-beginner-to-advanced/
Comments
I enjoy getting comments and questions.  Leave yours below.